Auto Hoop is an excellent addition to your business, court or home. It deploys and retracts with a push of a button and eliminates those clumsy portable units that are intrusive in courts or prohibited in many HOA communities.
Auto Hoop extends away from the wall for great layup shots.  We feature a breakaway slam-dunk rim and a high strength steel support structure. The opening is framed into the building's wall in the same manner as a window is added to a building. 


Pricing includes a wood framed door and closing hardware. The "wooden door" works well for most applications, but you can construct a door to meet your desired architectural needs, for a more customized look.  For indoor courts, please contact us regarding a flush metal court door.
​ 

Fitness Clubs 
Fitness clubs install Auto Hoop because it helps generate revenue.  Installing our product helps increase court utilization by easilly switching from squash or racquetball or basketball to keep your court busy. Court conversions are a smart choice to keep  your space productive.
Now being used by the

​​YMCA® and 
Marriott Vacation Club®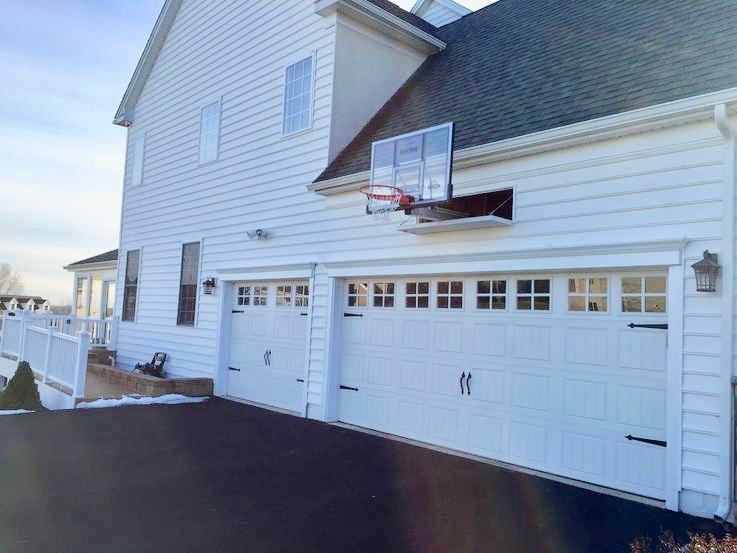 Custom Residential - Outside
Homeowner associations (HOAs) have strong rules prohibiting attached basketball hoops to the home's expterior or unsightly portable hoops in the front yard.  Solve that problem and increase your home's value with Auto Hoop. Great fun for the whole family.
We designed Auto Hoop to be "waterproof"  for all deployed componets which extend beyond the opening.